Azamara is having a growth spurt. Once private equity firm Sycamore Partners bought the brand from Royal Caribbean Group in early 2021, it quickly grew the fleet to four by snatching up the Pacific Princess. Renovated and renamed the Azamara Onward, the vessel was christened in Monaco in May. Cruise editor Andrea Zelinski sat down with president Carol Cabezas that day to talk about where the brand is heading.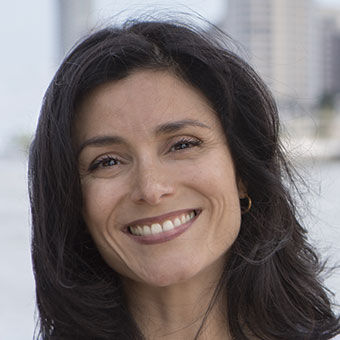 Q: What does Azamara's growth look like under Sycamore Partners?
A: Sycamore knew what they were doing when they bought us, and on the same day, they bought and signed for this ship. They are smart guys, and they knew that there would be questions surrounding a cruise line being taken independent. This ship demonstrated their commitment and that's what they intended. As for other growth plans, they continue very aggressively. I won't be sharing what they are just now, but what I can say very confidently is that at no time was there any delay or cancellation of our growth plan that we're working on.
Q: What is your vision for Azamara?
A: The brand promise of destination immersion has such great appeal and resonates, particularly following these past two years. I have no intention of changing any of that. What can be looked at a little bit differently is how we provide ambiance and entertainment onboard our ships. While we spend an overwhelming amount of our time at ports so that guests are enjoying the destinations … when they are onboard, let's make sure that they can have the options to have a really entertaining, great experience. The Atlas Bar, [a new concept introduced on the Onward], is a great example of that. That is a taste of where we're headed as a cruise line.
Q: What other changes are you making?
A: Our team has doubled over the last year. We've created new IT teams, accounting teams, legal, and we are enhancing our marketing team. We've had to build up every function that was previously handled by Royal Caribbean Group. While we've been doing that, we've been building up our technology, getting this ship ready to go and creating our strategy for future growth. I feel like I've had four jobs at the same time, but it's invigorating. It's really rewarding after going through a period when you thought, "How is this all going to shake out?" When, in March of 2020, everyone was kind of buckling in, getting ready for a rough ride. The place that we are in today is the best possible situation that this brand could have ever hoped for. That aspect is really rewarding. The future that [we see] is so expansive and so bright and full of promise. That's what gives me a lot of energy.
Q: The Onward godmother, Wanderful CEO Beth Santos, is a champion for women travelers. What's the Azamara target demographic, and how do you reach out to women?
A: Women love to travel. It's something that we see a lot more of. When you see solo travelers, it's usually women. You mentioned demographics, we've looked at it more as, "what are the motivators for travel." It's not necessarily an age that we've focused on. We've done a tremendous amount of research around this and looked at several segments of travelers and cruisers. Of all of these segments, these two are the ones we believe see Azamara as compelling: There are the folks who are 100% focused on the destination, and that's our core audience today; then there's an audience called the "destination indulgent." Those are the ones who want to have that very authentic and immersive experience and destination, but they don't want to sacrifice the experience onboard. Those kinds of travelers, they're the ones we're thinking of right now. We're looking at how we can deliver better on this other side of travel where they do want to have the right amount of space, the right kind of ambiance and entertainment and a very indulgent experience during their vacation. That's part of what's shaping what we're working on right now. 
Source: Read Full Article