Five years after Borealis Basecamp introduced clear-topped dome accommodations designed for viewing the northern lights, the Fairbanks, Alaska-area property has expanded.
Eight modern, standalone cubes opened in November, each fronted by a 10-foot-tall glass wall.
"They all face northeast for optimal aurora viewing. They're set back in the woods, too, so there's a secluded, private feel," said Rachel Bovey, Borealis Basecamp's operations manager.
Tucked on 100 acres of boreal forest some 25 miles from city lights, this remote, ridgetop property offers immersive, dark-sky adventures and thoughtful amenities. The new cubes stretch 32 feet in length, with a heated deck anchoring one end. Interiors feature king mattresses positioned to let guests watch aurora displays without leaving the bed. Spacious bathrooms have rainfall showerheads, soaking tubs and heated towel bars.
As they planned the new rooms, Borealis Basecamp co-owners Adriel Butler and Jeremy Rogers took cues from architecture in Northern Europe.
"They were inspired by some Nordic designs and arctic treehouses, and they wanted to try putting their own spin on it here in Alaska," Bovey said.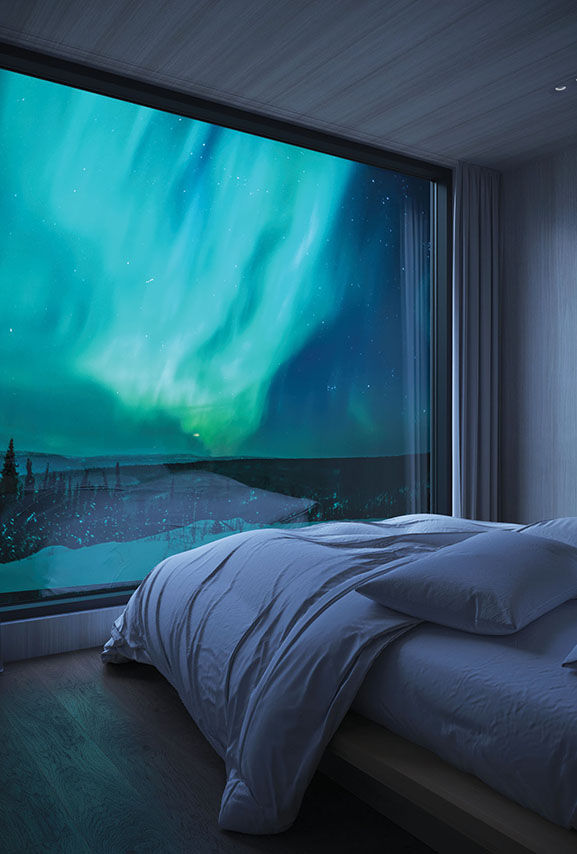 The cubes accommodate up to three people each, and the property is designing a family-friendly version slated to open for the 2023-2024 winter season. Plans call for a main king suite with private sauna and bath facilities plus a connecting room with its own bathroom, a pull-out sofa and beds for three children.
Borealis Basecamp's cubes offer an elevated alternative to the 20 igloo-inspired domes that dot the property. Patterned after similar structures made for field researchers and polar expedition teams, the fiberglass domes are topped by curved, 16-foot windows. 
Like the cubes, the resort's heated domes accommodate up to three people each. They have private decks, cozy interior seating and in-room coffee bars. Bathrooms are outfitted with vanities, showers and dry-flush toilets similar to those found on boats or in recreational vehicles. The result is an off-the-grid feel, without sacrificing comfort. 
Related Insight: Shedding some light on an aurora season like no other
A place in the sun
Borealis Basecamp opened for its first summer season this year. Crews installed removable bed canopies and automated blinds so that dome guests could easily marvel at the midnight sun or darken their rooms for sleeping.
The new operating schedule was a hit with both cruise passengers and independent travelers.
"Denali is definitely popular in the summertime, but Fairbanks has a lot to offer, as well. People were looking for something new that could breathe fresh air into the Fairbanks summer tourism experience," said Bovey.
Though equal in terms of scenic beauty, the winter and summer seasons promise a different atmosphere.
"In the wintertime, you make the most of the daylight you have. But in the summertime, you can stretch things out and have a more relaxed kind of vacation," said Bovey.
From out archives: In Fairbanks, dog days of winter
Dog sleds and reindeer
Borealis Basecamp tailors its activities and off-site excursions to the season. The resort organizes winter dog-sledding tours led by local mushers, for example, along with fall and spring dog-carting experiences and kennel tours during the warmer summer season.
Similarly, summer hiking trails double as winter snowshoeing routes. Complimentary snowshoe tours leave daily at noon and travel a 2-and-a-half-mile loop. Guests can also check out equipment and snowshoe on their own. Path options include a more challenging 3-quarter-mile trail that ends near the property's reindeer pen.
Three halter-trained reindeer live at Borealis Basecamp. A 30-minute reindeer meet-and-greet and a longer reindeer hike are among popular resort experiences.
"The hike loops back to the pen, where people can feed the reindeer and learn fun facts about these animals. For example, reindeer are more comfortable in 20-below temperatures than in 60-degree weather," said Bovey.
The resort also runs a six-hour White Mountains tour that departs on snow machines — or snowmobiles, as they're called in the lower 48. In the summer, the tour operates as a utility vehicle adventure. Both versions spotlight the Trans-Alaska Pipeline and surrounding backcountry scenery, with a lunch stop along the way.
Seasonal tour meals come from the team at Latitude 65, the resort restaurant. Housed in a 50-foot yurt with big-sky views, the venue opens daily for lunch and dinner (reservations are required for dinner). Buffet-style breakfast is included with an overnight stay. 
A new lounge serves evening cocktails and small plates, as well.
"Chef Easter offers incredibly creative dishes made with ingredients from local farms. The bar-and-bites menu was done by a terrific server who is interested in being a bartender. The reindeer pen came about because a staff member had a passion for reindeer," Bovey said. "What moves Borealis Basecamp forward isn't just the cool ideas or the offerings themselves but the people who elevate the experience and make sure that guests have the trip of a lifetime."
Borealis Basecamp is open year-round, except for an annual spring pause between early April and early June. Rates, dates and details are at www.borealisbasecamp.net.
Source: Read Full Article